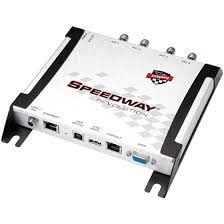 The Impinj R420 Reader delivers item visibility with the performance, quality, and reliability necessary for robust solutions. With its compact form factor and support for new features such as Power over Ethernet (PoE) and Sierra Wireless cellular modem connectivity, the Speedway Revolution range deliver increased application and deployment flexibility. PoE simplifies deployment and dramatically reduces cost by eliminating the need for AC outlet installation at read points. Made possible by the Speedway Revolution's low power consumption, PoE reduces operating costs as well as green house gas (GHG) emissions without compromise. Speedway Revolution delivers the full 30 dBm of transmit power and the highest read performance available—even with PoE operation.
RF interference, tag quantity, ambient RF noise, and even building materials near an RFID installation all affect system performance. Most users configure their readers for worst case scenarios, often compromising best performance in the process. With the Speedway Revolution's Autopilot, innovative firmware features work together, automatically optimising the reader operation to its environment—delivering peak performance at all times. The Speedway Revolution senses levels of RF noise and interference, automatically selecting the appropriate settings. Low duty cycle reduces RF interference, power consumption, and energy costs. The Speedway Revolution only transmits when tags are in the field, helping to clear the air of unnecessary RF noise. Dynamic antenna switching improves throughput and helps the reader work more efficiently. Speedway Revolution senses where tags are in the field and automatically focuses more time on the antennas with the largest tag populations in view. For example, if a low-height pallet follows taller pallets through a portal, the Speedway Revolution reduces time spent on antennas in the upper positions.
And the Speedway Revolution improves upon the advanced hardware capabilities which made the original Speedway the reader of choice for many demanding customers. Capabilities such as best receive sensitivity, interference rejection, and item-level carrier cancellation.
Features
UHF RFID fixed mount reader
Power Over Ethernet (POE)
The R420 is Australian 4W Compliant 920-926 MHz
Integrated General Purpose Input Output (GPIO) ports for detectors and signaling
Support for upto 32 Antennas
Internal filtering to reduce network traffic
RAIN RFID compliant reader
Rugged housing
Autoset continuous read optimisation tools
12 Month Return to Base Warranty with extension options