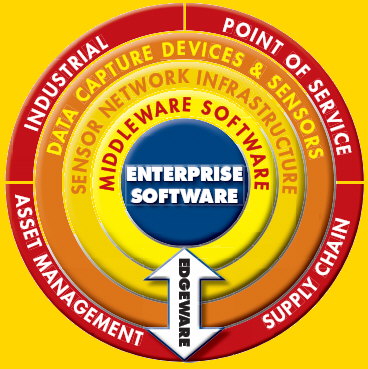 "Adding Eyes and Ears to Software"
Real Time Visibility & Control for
Asset Management Systems
Inventory Control Systems
Point of Service Systems
Integrated Payment Systems
Using
Edgeware and our engineering IoT solutions skills in supplying and integrating technologies in:
IoT (Internet of Things)
RFID (Radio Frequency Identification)
Barcoding
Mobile computing devices & peripherals
Warehouse terminals
Point Of Sale / Service
Industrial electronics & interfaces
Wireless infrastructure
Payment gateways
UMD has joined the Samsung Enterprise Alliance Program This gives UMD access to a number of Samsung development tools. We also see this as an opportunity to support the Samsung community with integreation to "edgeware" and "IoT".
UMD has joined the new IoT Alliance Australia Organization formed recently to explore the rapidly developing world of the Internet of Things (IoT) . UMD already has a number of IoT cloud based data capture systems and services, with more under development.
Plant Access Grows Its Competitive Edge with Industry-First RFID solution implemented by UMD using Honeywell Scanning & Mobility (HSM) RFID tags, Readers and UMD's engineering ICT solutions skills. See HSM Case Study for details.
UMD was a finalist in Melbourne's South East (MSE) Business Award for "Medium Enterprises". MSE is a regional economic development alliance of ten local government authorities (Councils) and utility companies with support from State and Federal government departments.

Manufacturing has a future. Being agile and flexible are the keys to surviving, 30-year manufacturing veteran Geoffrey Ramadan believes. Read more at The Herald Sun

UMD Wins Monash Business Award for Innovation
UMD has been presented with the 2012-2013 Innovation Award at the 19th Annual Monash Business Awards (MBA) evening. Founded in 1994, the MBA aims to promote business excellence and success by recognising the significant achievements and innovations of businesses situated within the City of Monash.

For more information about the Monash Business Awards please refer to the website: http://monashbusinessawards.asn.au/

UMD Prize - Monash University
Ms. Kelsey Rowe has received the UMD Prize for 2013 at the Monash University Engineering Awards Presentation Dinner which annually recognises students and staff for their outstanding achievements. The prize is awarded to the graduating student ranked second overall completing the Bachelor of Computer Systems Engineering course. Kelsey's final year project sought to determine the boundary conditions where added reactive power compensation is required to ensure a "generic" wind farm meets the required grid codes.

We congratulate Kelsey on her achievements and wish her the very best for the future!

Skybus - Bus Ticketing System
UMD develops Bus Ticketing System for Skybus; a Melbourne based private bus company that specialises in providing express bus services between Melbourne Airport at Tullamarine and Southern Cross City Train Station in Melbourne. (View the Project Summary for details)

Mazda Zoom Zooms with UMD!
As part of Mazda's development of its new 20,000 square metre spare parts warehouse in Somerton Victoria, UMD has supplied and installed infrastructure consisting of Intermec CK3 wireless hand held terminals, Intermec PB50 portable printers, Aruba Networks redundant wireless controllers and access points, UMD custom multi-device charging bay and all electrical and data services.