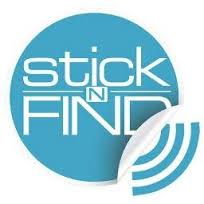 The Stick'N'Find (SNF) Enterprise class RF Beacon's are based on the new Bluetooth 4.0 Low Energy Standards, are water resistant and provided in a 3 year and 9 year battery format.
Able to communicate with any BLE Smart Ready device, the SNF Beacons can be programmed with different Interval Advertisements, variable transmit power levels and can be used with a number of different protocols, such as virtual leash and sensor measurement (Where a sensor is available).
Features & Benefits
CROSS-PLATFORM COMPATIBILITY BEACON: SNF beacons include SDK and compatibility with leading platforms including current iOS "IBeacon" software with over-the-air upgrade ability for future standards and indoor navigation standards.
LOWEST POWER CONSUMPTION: SNF beacons offer the lowest power consumption that enables up to 9 year battery life.
HIGHEST POSITION ACCURACY: Accurate location is important. Being in-store or at a specific store floor, and shelf area can mean success or failure. That's why SNF beacons include patented location accuracy features that deliver accurate location, every time. Further, each Beacon is individually calibrated at the factory.
UPGRADABLE FIRMWARE: SNF beacons can be updated over the air (FOTOT) or via touch-tag solutions to update full firmware so the tags you purchase will provide value for years to come.
CUSTOM FIRMWARE AND STACK: Beacons ship in standard configurations however, can be customized at factory to your specific needs.
DOWNLOADABLE SDK: SNF beacons include customisable SDK to incorporate into your indoor navigation apps to work with SNF beacons and ensure they are fully compatible.