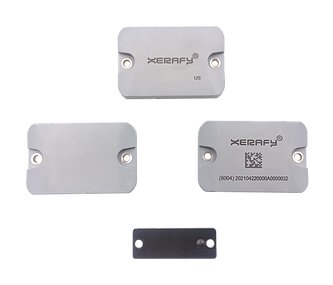 The MICRO series from Xerafy is the ultimate Industrial RFID tag for high temperatures, providing consistent performance where reliability and durability are critical.
As Xerafy's leading RFID platform for high temperatures, the MICRO series is field-proven at manufacturing facilities around the world, alongside PICO small tags and XS world's smallest tags.
The on-metal UHF RAIN RFID tags are engineered to provide a reusable tagging solution that operates reliably even in the harshest environments:
Up to 280°C - Xerafy's flagship Ceramic RFID platform, for superior reliability through high-temperature cycles
NXP UCODE 8 - Latest Industrial RFID chip
10m On Metal - Market-leading footprint/read-range
Two Sizes - Two footprints and a thin profile for the right fit for critical manufacturing assets
Stainless-Steel Reinforcements - Full range of rugged mounting options: M3 Rivets and Screws, Zip Ties, Industry-grade Adhesives (optional)
Industry-Grade Materials - The high-performance polymer case and meticulous design offer total durability against high temperatures, shocks, caustic chemicals, and fluids (IP ratings)
Optimal Optical Readability - Optimal case colours and material for maximum readability when laser etching (optional) Text, Logo, Serial Numbers, QR, Barcodes...
ATEX - Certified versions available (optional)
Customizable Platform - Full range of customization options available: Encoding, Printing, Laser Marking, Industrial Adhesives, ATEX Certified Versions, User Memory Version, Optical Optimized Case, Metal Backplate
The Xerafy MICRO Industrial passive RFID tag provides the dependability and durability required in manufacturing and production. The high-temperature UHF RAIN RFID tag is field-proven for harsh environments, where its durability matches the asset's life, thanks to its rugged case and 10m on-metal performance.
The Xerafy MICRO Paint Shop offers field-proven industrial performance cycling through high temperatures, fluids, and chemicals. The silicone-free design eliminates the risk of contamination in the shop, and the UHF RAIN RFID tag's IP68 rating and survival temperature of 250°C ensure its durability.
The Xerafy MICRO Autoclavable is purpose-built to withstand the rigors of sterile processing in healthcare. The IP69K rating and high-performance engineered polymer case of the UHF RAIN RFID tag withstands repeated chemical cleaning and autoclave sterilization cycles.
The Xerafy MICRO Nano XHT offers a compact form factor that survives a market-leading extra high temperature of 280°C. The UHF RAIN RFID tag's rugged design delivers full performance with industry-grade mounting solutions, an IP68 rating, and a read range of 7 meters on metal.