The UMD Model 528 (M528) Slimline Validator is part of the UMD VAST™ lineup of Validators used for scanning tickets or NFC tags to enable patron entry to venues or attractions.
The Validator is cloud-connected to the UMD VAST™ access control and ticketing system and optionally controls ingress and egress via a connected turnstile, gate or other physical barriers.
The M528 Slimline Validator can be integrated with almost any barrier system and uses solid-state relay outputs for activation of the barrier.†
The Slimline Validator allows patrons to scan their ticket barcode or tap their NFC passes to gain entry to the venue or to record their presence at the venue via the UMD VAST™ cloud service.
Mounting of the M528 is to a wall or bollard, adjacent to the venue entry and requires power and a wired LAN connection to operate. This design allows easy access for installation and maintenance.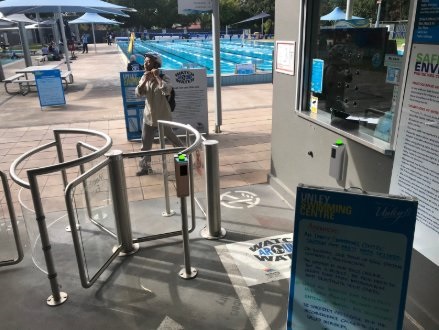 Features
Linux based microcontroller for fast and flexible applications.
Standard UMD VAST™ Validator software pre-installed
LAN connected for reliable communications with the host ticketing service
Remote monitored/managed via the UMD VAST™ web console interface
Rugged 316 Grade Stainless Steel enclosure ensures longevity and serviceability in exposed environments‡
Fast and aggressive presentation style barcode scanner for reading 1D or 2D barcodes on paper or mobile devices
NFC Mifare 1k compatible tag reader for contactless membership cards or NFC wristbands
Multifunction, multicolour LED indicator to show successful scan, rejected scan, system error or other programmed conditions such as concession tickets using different colours.
Online business hours support is included where you purchase an ongoing UMD VAST™ device access licence subscription.
12 Months Warranty