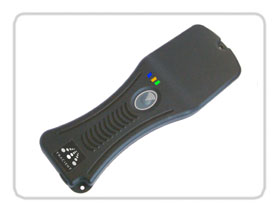 The Padl-R UF RFID Reader directly addresses the key issues facing mobile workers. It is lightweight, ergonomic and has a good battery life to last a full 12 hour shift operation. With just one button it is simple to use, making it suitable for workers of all skill levels. The unit is ideal for tracking and monitoring mobile assets, inventory management and mobile field service applications such as security, condition monitoring and service level adherence.
The Padl-R UF is readily paired via Bluetooth with a wide variety of wireless handheld PDAs including Symbol, Psion Teklogix, Intermec, Datalogic and many more. Alternatively it can be connected via Bluetooth or USB to a laptop or desktop computer.
Bluetooth connectivity makes it ideal as a retrofit option for companies that already use a handheld device, effectively maximizing the life of their existing equipment. When matched with a PDA or smart phone the reader provides a low cost mobile RFID solution.. This makes it a cost effective option for businesses wishing to test their RFID business case or start their migration from Barcodes to RFID.
Features
Designed for handheld, countertop or wall mounted use.
Stylish, lightweight, ergonomic.
Single button operation.
1+ meter UHF Tag read range
Full read/write functionality for compatible tags.
Powered by long life rechargeable Lithium-Ion battery.
Wireless Bluetooth connection to PDAs or Smartphones.
Available with ActiveX controls.
Comes with Tracient's RFIDWedge software interface.
USB connection for configuration, power supply and battery recharge, plus 'always on' wall mount operation.
Read confirmation via audio tones and multi-colour LED indicators.