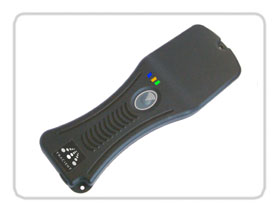 The Tracient Padl-R HF RFID Reader provides a smart combination of Bluetooth and USB interfaces. Readily integrated with a wide variety of wireless handheld PDAs or smart phones using Bluetooth, making it a perfect retrofit option for businesses wanting to add value to their existing handheld technology. Alternatively the USB interface allows for static mounting on a wall or counter for tagged items to be read in close proximity.
The Padl-R features a highly configurable user interface with a variety of use modes such as push to read, remote triggering or 'always on' operation. Up to 1,000 tag values can be stored using the data logging mode and downloaded to a PC or laptop at a later time. Integration with other products such as Bluetooth GPS receivers is easy using Tracient's Sens-R Blue™ technology.
The Padl-R is ideal for the mobile workforce to track and monitor mobile assets and for assisting with simultaneous asset position and identification in the field. Lightweight portability makes it excellent for use in security or logistics operations. It operates with industry standard tags at 13.56 MHz so is also ideal for Near Field Communications (NFC) type applications. Other applications inlude indoor asset management, condition monitoring, security, vending and ticketing.
Features
Designed for handheld, countertop or wall mounted use.
Stylish, lightweight, ergonomic.
Single button operation.
Compatible with Mifare, I-Code, ISO14443 and ISO15693 tags (ISO18000-3M1)
Full read/write functionality for compatible tags.
Powered by long life rechargeable Lithium-Ion battery.
Wireless Bluetooth connection to PDAs or Smartphones.
Available with ActiveX controls.
Comes with Tracient's RFIDWedge software interface.
USB connection for configuration, power supply and battery recharge, plus 'always on' wall mount operation.
Read confirmation via audio tones and multi-colour LED indicators.