RAM stands for Round-A-Mount. RAM is the revolutionary universal ball and socket mounting SYSTEM that allows you to mount practically anything anywhere. RAM's family consist of more than 900 interchangeable accessories to provide solutions to your most challenging mounting problems. The unique design of the RAM Mount provides easy installation, mobility, strength, versatility, vibration protection and durability, all at a low cost.
RAM is backed by NPIs renowned Lifetime Warranty, making it the mounting SYSTEM of choice. To provide light weight strength and corrosion resistance, RAM is made of marine grade aluminum with a powder coated finish, stainless steel hardware and rubber balls.
Recognized and accepted by the U.S. Patent Office, RAM is the only universal ball-and-socket SYSTEM that holds tremendous amounts of weight in high vibration applications for military, commercial and private use.
RAM mount products stocked at UMD are of the RAM-B and RAM-C series

RAM B Series – 25.4mm (1") size ball diameter

RAM C Series – 38.1mm (1.5") size ball diameter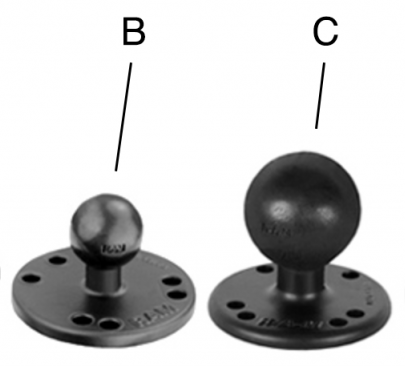 To provide greatest flexibility, UMD only stocks RAM Mount components, and not specific kits.
To create a RAM Mount solution simply select an "Arm" and a ball component (i.e any combination of "Base" or "Mount.") for each end of the arm.
The following list represents standard UMD stock lines, other RAM Mounts, can be supplied on an indent basis.
RAM Mount Catalogues