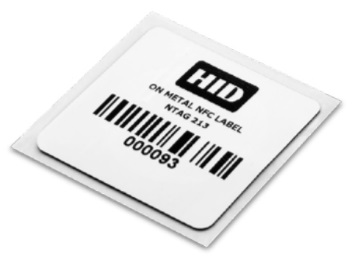 HID Global on-metal Labels are small, thin self-adhesive UHF tags for on-metal use. These white PET labels are only 0.9 - 1.2 mm thin and may be encoded and printed in certified label printers to apply logos, bar-codes, QR codes or text. Their flexible special shielding allows application on flat or curved metallic objects like liquid containers, laptops, pipes or machinery.
HID Global on-metal Labels come in different form factors to suit various applications in an optimal size to performance ratio. UHF labels are available in FCC (US) or ETSI (EU) variants. All labels are delivered on reels of 500 for easy processing in a label printer.
For industrial applications, UHF on-metal labels enhance the speed and accuracy of inventory and process management systems. Each labeled asset can be identified in the supply chain or connectedvia Internet of Things (IoT), enabling businesses and consumers to identify, locate, authenticate and engage each item.
Features
EPC Global Class 1 Gen 2, ISO 18000-6C
Effortless integration, simply apply tags to metallic assets
Enhanced effectiveness as these are faster and more accurate than QR-codes or text transactions