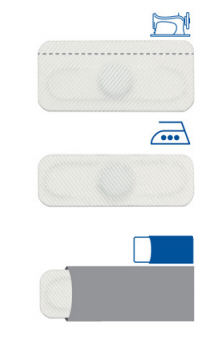 The HID Global LinTag transponders have been designed to apply securely and discreetly to textiles, enabling RFID tracking of high-volume, commercially laundered bed linens, towels and garments.
In contrast to garments like uniforms, linen like bed sheets or towels are washed more frequently and have to endure a tougher cleaning and drying process. Historically, this made using RFID to optimize inventory and accounting processes difficult or impossible to implement for linen. HIDGlobal's LinTag robust design combats the industrial wash cycles for linens, withstanding the rigors of repeated washings, cleaning chemicals, sterilizing heat, and pressure. The patented design securely positions the inner chip relative to the antenna, which guarantees consistent performance over the life of the tag.
Encased in highly durable cotton-polyester fabric, LinTag units allow inconspicuous RFID tag placement into textiles. LinTag heat-seal tags attach effortlessly via heat-transfer adhesive. LinTag Stitch tags allow them to be directly stitched onto or seamed into fabric without the need for an extra pouch or cover saving time and costs for application. LinTag Embed tags can be sewn into a small hem or pocket to accommodate existing processes.
Industrial laundries and commercial cleaners are using RFID technology to improve inventory control, reduce labour requirements, and optimize the lifecycle management of individual textiles andgarments. Real-time traceability delivers more accurate and timely billing, and enhances customer satisfaction.
Healthcare organizations are also tagging linens and gowns to monitor usage and inventories, automate distribution, and reduce shrinkage and staffing needs, relying on LinTag transponders to survive repeated cleaning and sterilization processes.
UHF LinTag's deliver 128 bit EPC, anti-collision functionality, fast data rate communication and read ranges of up to 10 ft (3 m).
Features
UHF EPC Class 1 Gen 2 and ISO 18000-6C, 128 bit EPC
Efficient application via hem, stitch or heat-seal adhesive
Patented design ensures reliable performance over tag life
High water, chemical, heat and pressure resistance
Withstands up to 300 commercial washing cycles
Fabric housing masks and protects RFID chip and antenna