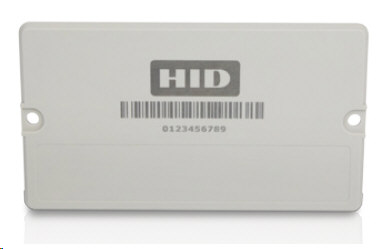 HID Global InLine Tag Plate UHF transponders are the ideal solution for tagging shipping containers or similar assets. 3.7 mm thick, these tags mount flush to any surface. The high impact polycarbonate housings shield internal components from the environmental extremes and rugged treatment of industrial freight operations.
Standard grey InLine Tag Plates provide excellent contrast for imprinting. HID can also produce plates in any color you choose. The large surface accommodates embossing, laser-engraving or adhesive labels for a logo, barcode, serial number or text message.
Tough and versatile, InLine Tag Plate transponders are appropriate for mounting on metal, plastic or wood using standard nails, screws or industrial adhesives.
InLine Tag Plates improve data collection speed and accuracy for logistics applications, while making tracking more cost-effective. UHF technology enables anti-collision functionality, fast data-rate communication and password data protection for precise, reliable tracking and updating. The plates can be read from distances of up to 7 m, and are compliant with EPC global-certified UHF Class 1 Gen 2 readers and modules.
The Dual Frequency InLine Plate "Trusted Tag" version allows flexibility for use with both automatic UHF distance machine reading, as well as direct personal interfacing with an operators NFC capable Phone.
Features
Fully inter-operable, standards compliant
High Impact PC/ABS housing
Waterproof, chemical and impact resistant
Fixation options include nails, screws, and glues
Dual Frequency "Trusted Tag" version available
Options to mount to any surface: Metal, Plastic, Wood, etc