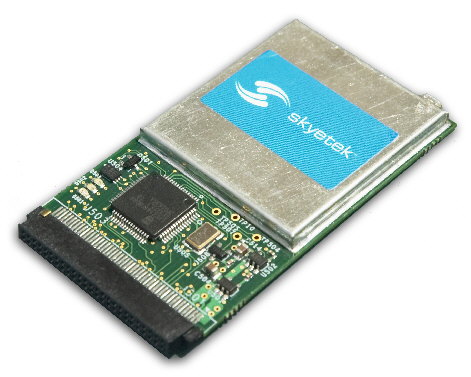 The SkyeModule M9, a tiny ETSI compliant embedded UHF RFID reader module for OEMs, is a high performance, secure, power-efficient solution, embeddable in a broad range of products. Based on the same Advanced Universal Reader Architecture (AURA) used by all SkyeTek RFID readers, the SkyeModule M9 offers customers investment protection through a flexible, forward-compatible platform that will support future tag protocols, security features, and customized enhancements.SkyeTek's Firmware, the brains behind all SkyeTek readers, eases integration and provides customers with a significant cost-performance advantage. In addition, with AURA, SkyeModules deliver robust functionality, unmatched in the industry, including Tagnostic support for a broad range of tags and TagIQ to maximize performance for each individual tag type.
Features
Half the size of a typical business card.
FCC and ETSI (302 208) compliant providing a global SKU for pre-scan certification in major markets.
Common Blade compact flash type II form factor compliant.
Reads and writes to transponders based on EPC, and ISO 18000-6 air interface protocols covering 862 to 955 MHz
Upgradeable support for standardized encryption algorithms (DES, 3DES, and AES), and secure hash functions (SHA and MD5).
RF output power is software adjustable from 15mW to 500mW
Power operating from 3.3V to 5.0V.
Power management intelligence allows current to be set as low as 100 μA (Sleep Mode) for use in battery operated devices.
Three host-interface options USB, UART (TTL), and SPI, which are software selectable.
Adjustable serial data rates from 4.8 to 115.2 kbps
Standard 50 Ohm antenna output to enable attachment of an external antenna to extend read range / rate.